Sustainable, Affordable Housing in Asia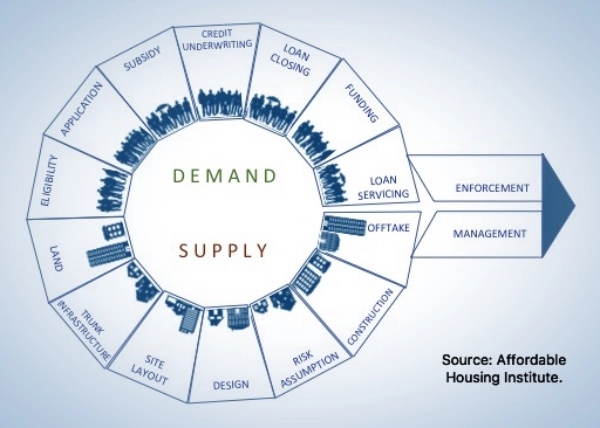 What is Affordable Housing?
Affordable housing across Asia is in crisis. Except there is a bigger crisis at stake than just the housing requirements for millions of people across Asia. There are the climate emissions and resources required to deliver the promises made by politicians to deliver affordable housing. 
First, what do we mean by affordable housing? Affordable housing is defined as housing which meets adequate quality requirements, is not located too far from workplaces and schools, and the price is not too high that households would not be able to fulfil other basic needs. In essence, the quality, build-up and location are as important as the financial affordability of a house. 
How much Affordable Housing is Required and What are the Costs?
In 2014, the US consulting company McKinsey predicted "…that by 2025 as many 1.6 billion people worldwide would face problems securing affordable homes. They estimated that 330 million urban households globally live in substandard housing or are financially stretched by housing costs. Some 200 million households in the developing world live in slums; in the United States, the European Union, Japan, and Australia, more than 60 million households are financially stretched by housing costs. 
It is further estimated that building an adequate number of affordable housing worldwide by 2025 would require an investment of USD$9 trillion to $16 trillion for construction and land – USD$1 trillion to $3 trillion may have to come from public funding. 
Except times have changed since McKinsey's 2014 predictions, and these estimates are far below what the current costs and housing numbers are likely to be now and in the future. In 2014, McKinsey also did not factor in climate change, GHG emissions, the rising cost of primary raw materials and how finding solutions to affordable housing means ditching business-as-usual scenarios. 
Switching to a Sustainable and Circular Built Environment
Using the example from Malaysia, the Master Builders Association Malaysia (MBAM) is urgently seeking the government's immediate intervention to help the Malaysian construction industry cope with the impact arising from the steep increase in the prices of building materials. From a sustainable and circular perspective, in collaboration with the MBAM and MGBC (Malaysia Green Building Council), the government should focus first on establishing materials that fit a closed-loop system. There is a growing body of research and new businesses, within the built environment, that are receiving funding and could participate in Asia's affordable housing programs. 
In 2021, the Asian Development Bank (ADB) approved two loans to develop affordable housing in Asia. The first loan of US$150 million has been provided to provide access to inclusive, resilient, and sustainable housing for the urban poor in Tamil Nadu, India. The second loan of $24 million and a $6 million grant to support the Government of Bhutan's plans to improve access to adequate and affordable rental housing. 
Regarding these specific loans, there are no details to stipulate what sustainable housing actually means or what is required to meet a sustainable housing loan. More recently in India, the ADB, in partnership with IIFL (formerly India Infoline Limited) and HFL (LIC Housing Finance Limited), signed a $68 million loan with ADB to improve financial access to affordable green housing for lower-income groups in India.
The funding comprises a direct ADB loan of up to $58 million and a $10 million concessional loan by the Canadian Climate Fund for the Private Sector in Asia (CFPS). The CFPS loan will support IIFL HFL's green housing portfolio, specifically towards incentivising developers to adopt green certification standards in building affordable housing.
In July 2022, during a meeting to discuss the climate crisis, the UN secretary-general António Guterres told ministers from 40 countries that the "multilateral development banks", institutions including the World Bank that are funded by taxpayers in the rich world to provide assistance to poor countries, are not fit for purpose when it came to providing the funding needed for the climate crisis and that they should be reformed.
In 2019, C40 Cities partnered with Arup and the University of Leeds to explain how cities and the built environment can address climate change. C40 Cities is a global network of mayors taking urgent action to confront the climate crisis and create a future where everyone can thrive. Five recommendations were put forward at the 2019 C40 World Mayors Summit, which are:
Implement efficiency in material design – Potential emissions reduction by 2050: 18%
Reuse building materials and components – Potential emissions reduction by 2050: 3%
Enhance existing building utilization – Potential emissions reduction by 2050: 11%
Switch high-emission materials to sustainable timber – Potential emissions reduction by 2050: 6%
Use low-carbon cement – Potential emissions reduction by 2050: 6%
Material innovation is the next big thing. The circular economy does not function unless the materials used in manufacturing can be reprocessed. One easily accessible source of material feedstock comes from the palm oil industry. Establishing a Material Science Lab in a progressive university connected internationally is a good place to start.  
The most familiar mantra from sustainability and circular economy professionals, environmental and climate activists and increasingly from companies committed to genuine ESG actions is "it's not enough; we need to do more".  More robust actions cannot be achieved in isolation and to perpetuate another mantra, "it's a multi-stakeholder collaboration." 
By 2030, Indonesia projects it will have 404.7 million tons of palm oil residues. For Malaysia, research estimated that there were approximately 220 million tons of palm oil residues. 
There has been excellent research in both countries regarding the volume and future projections related to palm oil residues. Just one industry sector that can contribute to innovative materials for low-cost, affordable housing. We now require three additional steps. 
The R&D required to shift palm oil resides to new materials

Standards for building materials

Industry participation and uptake   
Circular Economy Asia is ready to play our role in a multi-stakeholder team to deliver on these outcomes. 
'Rethinking Affordable Housing in Malaysia', CIDB publication 188, 2019  
'Steep hike in prices of building materials prompts MBAM to call for immediate govt intervention' by Bernama, published in the New Straits Times, 15 April 2022. 
'ADB Approves $150 Million Loan to Improve Urban Housing in India' published by the Asian Development Bank, 06 September 2021 
'ADB Supports Affordable Housing in Bhutan'published by the Asian Development Bank, 08 December 2021
'Humanity faces 'collective suicide' over climate crisis, warns UN chief' by Fiona Harvey, published in The Guardian, 18 July 2022.
'IIFL HFC signs $68 million loan with ADB to fund green housing', published in The Hindu, 21 February 2022
'The Potential of Palm oil Waste Biomass in Indonesia in 2020 and 2030' by E Hambali and M Rivai, published in IOP Science, 2017
'Status Evaluation of Palm Oil Waste Management Sustainability in Malaysia' by Oseghale, Sunday Dalton and Mohamed, Ahmad Fariz and Chikere, Aja Ogboo, published in International Journal of Sustainable Development, 2017