Step Two –  Circular Company: Internal and External Review
The circular economy is not a trend and to embrace the circular economy requires an internal and external review of your activities. Most businesses are focused on two core elements:
(1) Profits or shareholder value; and
(2) Sustainability for the long term, not just financial sustainability but also adequate supply of resources (natural, biological, human), environmental and social impact, supply chain visibility and customer acceptance of circular products and services.
As the transition to circular systems is not a philanthropic scheme, nor a CSR programme but a genuine opportunity to rethink a company's business model to manage natural, biological and man-made resources, which has the possibility to bring about significant cost savings. Before any business can begin to consider new circular business opportunities such as product – service models taking a look at your internal and external activities can begin to unlock new perspectives.
The Use of Chemicals
The use of chemicals is part of almost every aspect of our lives. The truth is that today's chemical legislations are not adapted for a sustainable circular economy, as many hazardous chemicals are unregulated and in widespread use, fulfilling thousands of different functions in all kinds of everyday household items around us.
These items are the very same that we want to recycle and turn into new products in a circular world, it also means we are recycling their toxic contents.
Do you know the chemical composition of the assets you sell?
If you do not, how can you find out?
If your company wants to be circular you have two options
Reactive: You follow the regulations and list the substances that are of 'very high concern' under a REACH declaration.
Proactive: In your approach will you seek our green chemicals and sustainable materials that position your company for the circular economy?
What choice will you make?
Raw Material Supply
Do you know how exposed your is company to raw material supply and price volatility? According to the World Economic Forum "…the concept of circularity…positions the concept for today's global (and local) CEO as a practical business strategy to 'hedge' against the complex and interconnected risks of resource competition, commodity price volatility, new materials technologies and changing consumer demands."
There are four type of raw materials: biomass, minerals, fossil fuels, and metals. The website MaterialFlows.net have calculated in the period from 1970 to 2017, the global extraction of biotic and abiotic materials increased more than 240%, reaching an amount of 92 billion tonnes in 2017. Thereby, two distinct phases of material extraction can be identified: A period of modest growth between 1970 and 2002, with only a short period of stagnation caused by the collapse of the former Soviet Union; and from 2003 onwards, a period of significant increase in material extraction.
Biotic: relating to or resulting from living organisms / abiotic: not derived from living organisms.
Waste-as-a-Resource Workshop
This is an introductory workshop on 'material flows'. A key team exercise in Step Two is the Feedstock Collection Pilot that introduces participants to how recyclable resources (otherwise known as secondary raw materials) becomes feedstock for new products, either within your own or another company. And that's why we created a separate and dedicated ½ day workshop, Waste-as-a-Resource, that focuses on company's reducing and, ultimately, moving towards circular material flows as much as possible.
Tyres – Case Study
Mobility, the key to our 21st century lifestyle, comes in different forms. The one most of us are familiar with are cars, truck, and buses, the type of mobility that conveniently moves us around urban centers. In 1950 there were 50 million cars, in 2000 there were 800 million cars and in 2050 there may be up to 2 billion cars on road.
Despite the energy required to keep these vehicles moving, tyres provide the traction and safety. Michelin state that there are more than 200 different components that make up a tyre, such as natural rubber (25%), synthetic rubber (20%), reinforcing fillers (26%), chemical additives (12%), steel cables (14%) and textile cords (3%).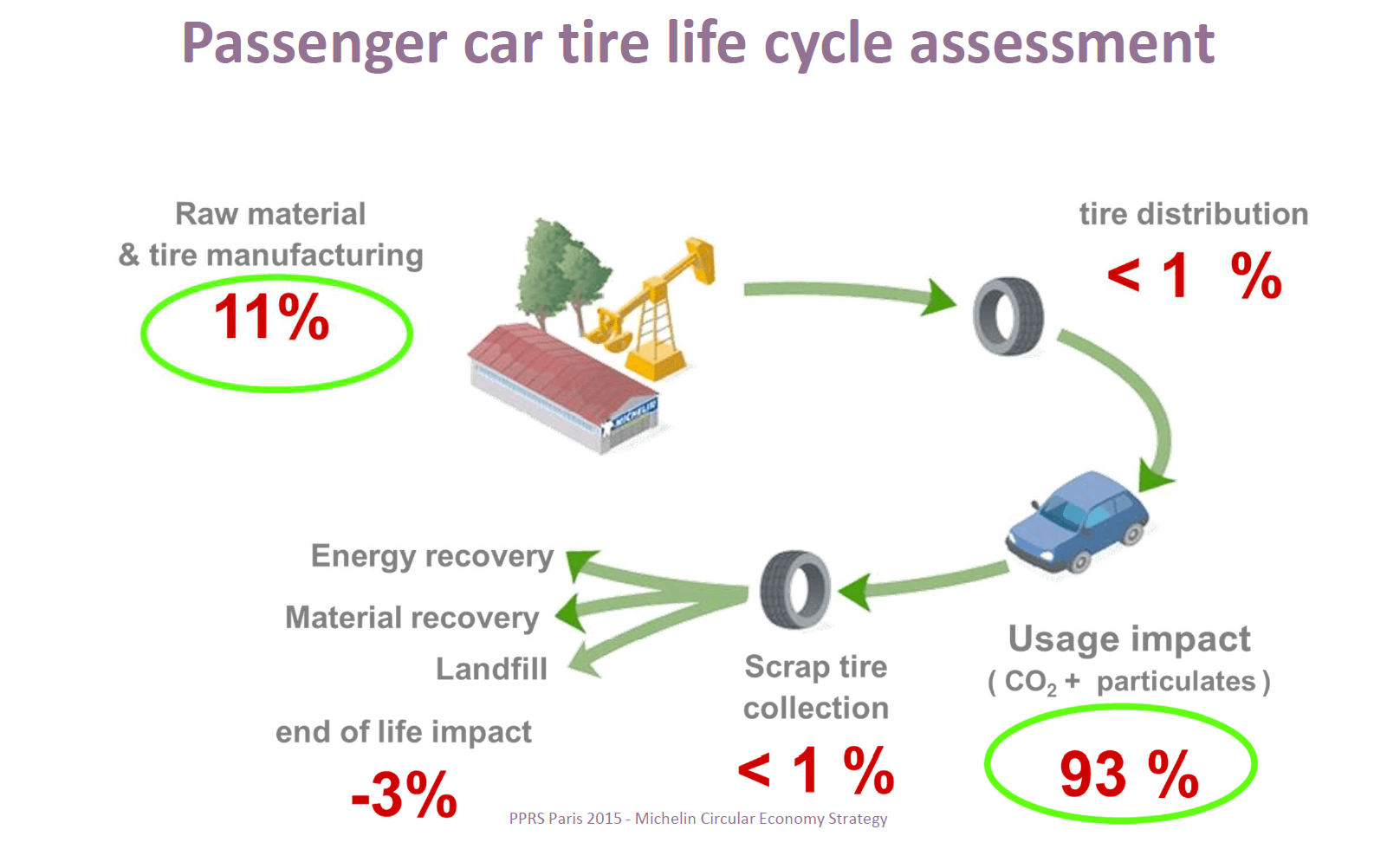 Yet less than 1% of tyres are recovered for reprocessing or recycling. The European Tyre and Rubber Manufacturers Association write "Fair and sustainable supply of raw materials remains a challenge. This topic is here to stay. For example, price volatility in natural rubber markets and a foreseen shortage thereof, a shortage of different oils, ambitious recycling and resource-efficiency targets put forward both by industry itself and the European Commission are but a few examples.
This will be of increasing importance as the global demand of our industry for raw materials is likely to continue or even grow given the expected increase in demand for transportation. Supply shortages in some sectors may have consequences which will have effect on strategically important societal sectors such as healthcare, medical science and transport."
A market research company, Smithers Rapra, published a report 'The Future of Tire Raw Materials to 2021' and states "Tires are a major global business, consuming almost 40 million tonnes of materials in 2014. Purchasing these materials makes up around 30% of a tire company's sales and the materials input is estimated at $70 billion globally in 2014. Despite the predicted slowing of the world economy, tire materials supply is estimated to rise at a CAGR of 3.1%, to reach approximately 47 million tonnes by 2021. Despite this growth, all the indications are that the next few years are going to be challenging for materials suppliers. Previous growth predictions are being scaled back; trends towards lighter weight tires is reducing demand; and tire makers are targeting materials inputs as a source of cost savings.
The  Rubber Journal Asia reported in 2017 "Local tyre manufacturers in Vietnam are facing a shortage of rubber raw materials."
This scenario is being played out across many other raw material sectors and the unsustainable demand for raw materials is only going to increase. Smart companies are taking action now to guarantee their supply chain remains stable and uninterrupted.
Additional Resources
There is a wealth of resources available in our Knowledge Centre, everything from reports, images, infographics, articles, movies and tools.  For information specific to Step Two – Circular Company, click on the images below.