To shift from selling products to managing them as assets is not an easy concept to grasp for most businesses, especially for many SMEs in Asia. As the circular economy gains traction the requirement to stop being an observer and engage as a participant moves ever closer. The end use of products, after consumers have finished the use-phase, lies at the heart of this new economic system and it is at this point of engagement when the shift from sales to product asset management automatically begins so we can move to retrieve for reuse, remanufacture, refurbish, reprocess or recycle.
For industry to transition to the circular economy, we need to come up with a myriad of solutions and ideas to improve the efficiency and effectiveness of how all these assets (products) will be managed and, quite frankly, this is going to be a rather daunting task. Yet before we can get to this point there are three key factors that will be a major determinant as to how this task is performed: (1) the design of the product; (2) the types of materials used that will add or subtract to the overall long term worth of any assets; and (3) the reverse logistics that brings the assets back to maximise resource value.
Both are equally challenging and for, obviously, different reasons. Starting with design and using the humble office chair as an example, according to market research firm Analytical Research Cognizance, the worldwide market for office chairs is expected to grow at a CAGR of roughly 5.8% between 2018 ~ 2025, which translates to US$14,500 million in 2023 up from US$9,280 million in 2017.[1]
Current and future prospects of the office chair market are directly influenced by growth of the office furniture industry. With notable growth of the private sector, there has been a proliferation of micro, small & medium-sized enterprises (MSMEs), underpinned by immense support from national governments and private investments. Increase in the number of commercial infrastructures has further created high demand for office furniture, thereby driving growth of the office chair market.[2]
Cognizance's report goes onto to state "The major raw material for office chairs is wood, leather, plastic, cloth, hardware, metals, paint, adhesives and sealants, etc. On the global market, supply of raw materials is full." This means there is adequate supply of raw materials, yet this is still not the complete picture. Key players in the office chair market have introduced a wide range of product variants to fulfill needs of different workplaces that vary according to an organization's capacity.
Manufacturers focus on the development and design of requirement-specific office chairs, such as those for conference rooms, private cabins, and desks. Availability of office chairs in a wide variety of designs has favored their adoption in recent years and this is why growth is quite strong.[3]
With the office chair market being highly fragmented, few established manufacturers hold leading market shares. Import activities related to office chairs have remained relatively low, as requirements of customers in emerging markets vary from those in developed regions. This has further inclined purchase preference of customers toward domestic manufacturers over international vendors, which has impacted the global supply chain for the office chair market.[4]
At once we can see there appears to be no consideration for the redesign of office chairs for repair, remanufacture or recycling of materials. Although there is adequate supply of raw materials there is additional incentive to utilize the growing volume and resource value of broken and worn office chairs destined to end up in landfill or incineration – future proof raw material price volatility.
While one report states locally manufactured office chairs have greater market share, online shopping sites provide an abundance of office chairs made in a variety of different countries. The growth in the office furniture market provides obvious opportunities for a remanufacturing / refurbishment / repair industry however spare parts for the wide range of product variants is going to be problematic.
The material selection for most office chairs consists of wood, leather, plastic, cloth, hardware, metals, paint, adhesives and sealants. Synthetic materials make up a large portion of the less expensive office chairs making them more prone to breakages resulting in a much shorter use-cycle. How easily and economically chairs (from this segment of the market) can be recycled, is yet to be assessed
However the most important question to ask is how do we transition the office furniture industry into circularity? Here is where things start to become a little more complicated and this is what needs to be considered.
1. There are a range of options that will see this transition come about either voluntarily or via economic influences: Consumer demand for sustainable products will increase, requiring more manufacturers to improve their design and material uses to increase circularity
2. R&D investment: A notable increase in R&D activities will improve the types of circular materials available thus making it easier and, hopefully, less expensive for manufacturers to source and produce sustainable products.
3. Trade barriers and eco-design regulations: The EU already has a list of products that must comply with minimum requirements related to energy efficiency. As the EU moves towards their Circular Economy Action Plan, product design will play a more predominant role to ensure reuse, remanufacture, repair, refurbish and resource recovery is optimized.
This may result in a global trend forcing manufacturers to comply even for domestic or regional markets.
4. New business models: Product-as-a-Service systems (PaaS) will expand significantly to include a whole variety of different purchasing options. Office chairs may well be bundled into a whole office furniture package for buyers to lease with the seller retaining ownership. This could drive improvements in design and material use as asset owners will want to maximise profits.
There are three types of PaaS that offer different product service components to consumers:
(a) Product-as-a-Service: Generally geared towards sales with extra services offered such as consumables and, also, a take-back agreement when the product reaches the end of its use-cycle.
(b) Use-oriented services: The provider retains ownership of the product which are made available in a different form, and sometimes shared by a number of users.
♦ Product Lease: The product does not change ownership and the provider is responsible for maintenance, repair and control. The leasee pays a regular fee, has unlimited and individual access to the leased product.
♦ Product Renting or Sharing: Same as Product Leasing with the main difference is the user does not have unlimited and individual access; the same product is sequentially used by different users.
♦ Product Pooling: As above except there is simultaneous use of the product.
(c) Results-oriented services: The customer and provider agree on a result and there is no pre-determined product involved.
♦ Activity management / outsourcing: An activity of a company is outsourced to a third party, such as cleaning or catering.
♦ Pay-per-service-unit: The user does not buy the product only the output, such as photocopier pay-per-print.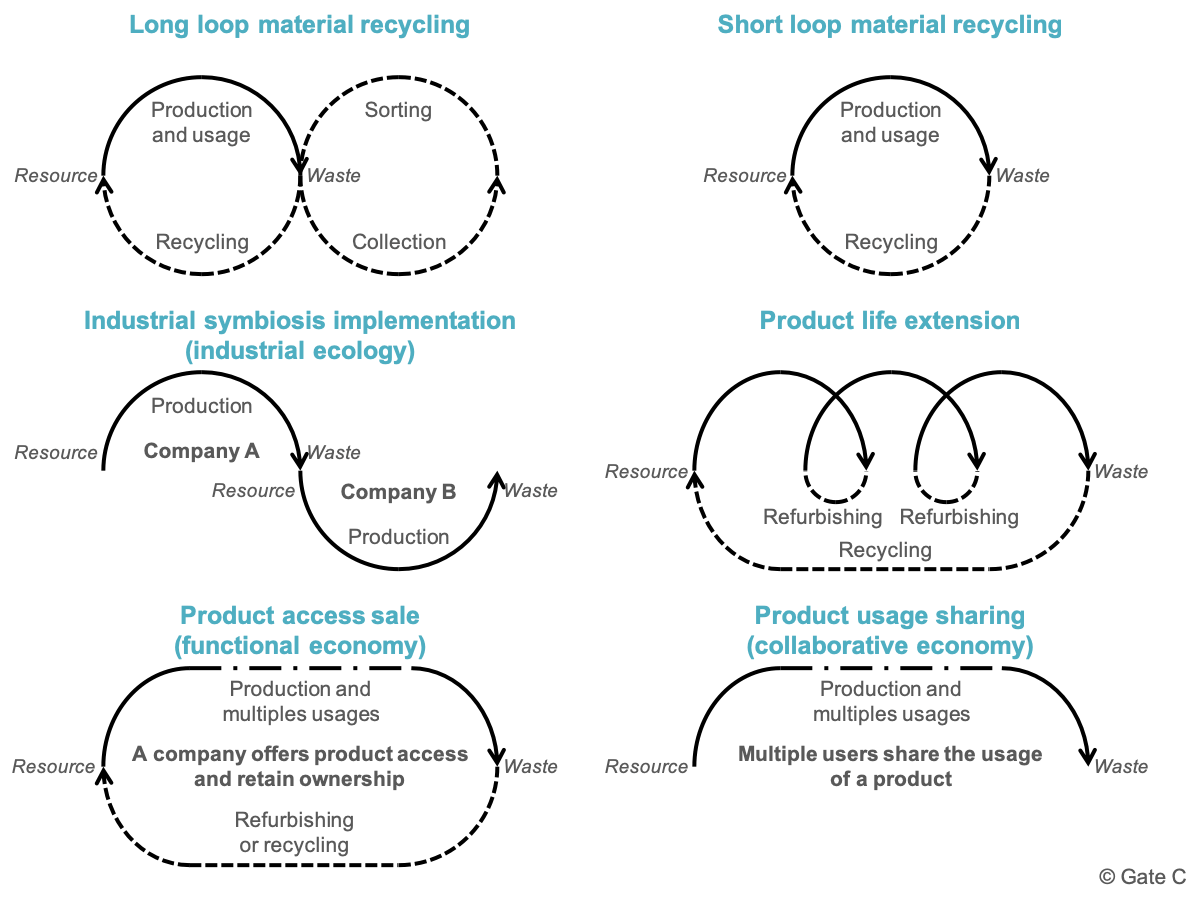 On the surface these new business models may appear reasonable straightforward, however the key lies in managing the usage (and not the sale) of the material over the course of its use-cycle. A model that is focused on generating value and revenue from functionality instead of the gross production of materials. Within this model businesses are competing on the functionality that they provide, by producing more functionality with less material and changing from ownership to performance-based payment models, this is instrumental in translating products designed for reuse and long usage into attractive business value propositions.
Businesses need to ask themselves what is the real core value and essence of what they deliver to customers, and how can circular business models help them rethink how they deliver that value? Businesses should no longer see themselves as simply selling resources on mass but instead move up the value chain to become end-to-end material solutions providers. Building their business models around the full life cycle of material flows through the economy, with their value proposition focused on the actual points where the material delivers a service.[1]
This article has used office chair as an example of a product that will experience reasonably steady growth for some years to come. The forces behind this growth is favourable economic policies for businesses, reduction in poverty, increased globalisation and more affordable office space becoming available. Yet exactly the same dynamics that exist for office chairs mimic many other products we purchase for use. Each will require their own transitional phases under the same four influences stated above.
One last argument to digest. Many businesses still consider sustainability and now the, emerging, circular economy as a cost rather than a profit driver. Many complain the economy needs to improve before any investment can be made for change as the financial benefits may not be realised for some time. With this rationale many businesses miss the real opportunity at hand – not to be battered by the ups and downs of the market and resource price volatility but to weather the storm in a safe haven of secure resources and stable prices together with an enhanced brand that consumers can trust to deliver a sustainable and circular product.
Of course these two factors do not cover everything in any business environment and there will always be other day-to-day complications to contend with. The early adopters of the circular economy will emerge as the winners both in securing the long-term position of their company and customer loyalty. This is the strength in brand value and resource security. This is the investment Asian companies cannot afford to miss regardless of the low cost of labour and goods Asia offers. The global market is moving towards sustainability and circularity as the new definition for profit not dollars. Asian businesses need to take heed.
[1] http://www.arcognizance.com/report/global-office-chairs-market-2018-professional-survey-and-industry-forecast-2025
[2] Ibid
[3] https://www.factmr.com/report/942/office-chair-market
[4] Ibid
[5] "Complexity Approach to Basic Materials" http://complexitylabs.io/
Images: Feature image: Office chair made from ocean plastic: http://www.homecrux.com/tag/sustainable-office-furniture/
Image: Office chair manufacturing: YouTube Video/
Image: Business Models: http://www.gatecconsulting.com/