Step Three – Designing Your Products for Circular Systems
If a company can design a product that can be manufactured from materials (preferably non-toxic) suitable for reuse, and has particular design features to ensure components can be remanufactured, materials can be reprocessed and breakages can be repaired, to keep the product (resources) in use for as long as possible then additional value can be extracted through the parts or servicing and at end-of-life if managed correctly.
Why a Company Should Change to Circular Design Principles?
(1) Rising cost of resources will result in a company being unable to remain competitive in the global market.
(2) Company's moving towards Circular principles because it is more profitable, they retain greater control of their assets (the resources that make up the product), potential to increase customer loyalty, future-proof against resource price and supply volatility, boosts sustainability, reduces environmental impact, less GHGs and adds to shareholder value.
(3) A company can explore new and offer alternative business / sales models to their customers.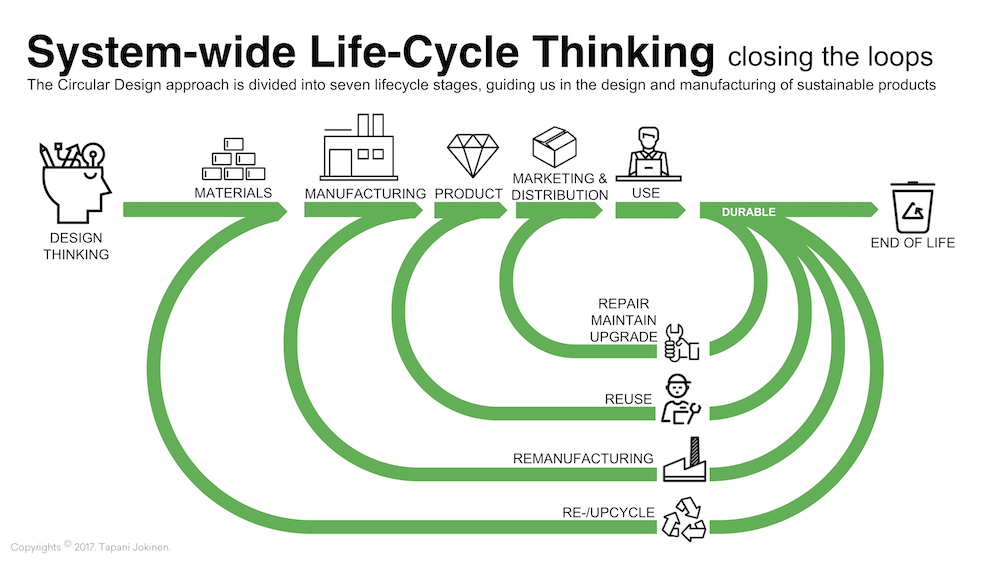 What Influences the Life-Cycle of Your Products?
Making things that last an eternity is not a Circular Economy objective by itself. But if products can be reused this does lower the carbon footprint and the energy required to re-create this product from raw materials. However even perfectly good products are disposed of for several reasons that have nothing to do with their technical state. When redesigning a product for a Circular Economy it is critical to know what determines its economical and useful life. There are three main influences identified to get you started to think in life-cycles:
Trends
Government regulation
Innovation
How Do You Design for Innovation?
Designing with future innovation in mind is probably one of the most difficult things to do. Predicting the next technological breakthrough is virtually impossible. However certain production habits of manufacturers could be changed for the better. Modular design enables the upgrade of certain key parts when technologically advanced components are available. Through module design a company can cater to individual needs of consumers, anticipating changing fashion and trends, and even demographic shifts such as aging populations.
The Selling Proposition for Modular Beds
References:
Image: 'System-Wide Life-cycle Thinking' by Tapani Jokinen, Eco-Design Circle
The selling proposition for Modular Bed (1): elementsofrest.com comes from their website
The selling proposition for Modular Bed (2): Sleepworks.com comes from their website