The Asian Plastics & Packaging Agreement (APPA) was officially released on 01 October 2018 as a work in progress. While the targets will not change nor the requirement for more R&D and an administrative agency in each country to build, maintain and manage a sustainable and circular plastics and packaging industry, the path to the stated goals requires us to build-in more detail to guarantee a stronger, more robust Agreement.
On 01 December 2018 we made our first major addition to how these goals will be achieved. In essence we are calling for the certification of plastics manufacturers to adopt a Plastics Safety standard for plastics industry operation managers to reduce the accidental loss of pellets, flakes and powder from processing facilities into the environment.
Certification achieves the following outcomes:
1. To ensure compliance there should be an annual audit to reduce the risk of plastic manufacturers cutting corners.
2. Packaging companies and brands (whether they sign up to targets or not) can purchase their plastics through a supply chain that includes environmental integrity.
3. Packaging companies and brands can choose to use the certification label to assure customers their usage of plastics comes from responsible sources.
4. This begins the process for additional procedures to be certified and to develop training guidelines for a sustainable and circular plastics and packaging industry.
Why Certification?
During the 20th century the biggest issue of the day was food safety. To be fair food safety has been a huge problem for a few thousand years and it was only during the 20th century did government, science and researchers have the means to collaborate to comprehensively tackle food safety as a whole system.
The 21st century now sees plastics as the single biggest issue for our modern lifestyles to tackle. The most striking difference between these two catastrophes is that a lack of food safety procedures does not effect our environment and all other living creatures. The fact that we do not have certified Plastic Safety procedures in place facilitates more environmental damage.
The truth is that setting targets does not achieve everything we need to address. We need to start from the beginning, where we can significantly reduce leakages from plastics manufacturing and begin the process of instilling proper handling procedures throughout the whole supply chain and for all those who work in the plastics industry. In essence we need to have a Plastics Safety regime in place that mimics food safety.
To quote from Operation Clean Sweep "In recent years and with increasing frequency, researchers have reported that seabirds, turtles and fish are ingesting a wide variety of plastic items, including pellets, flakes and powder that could affect their ability to breathe, swallow or digest foods properly. Most of these plastics are used in consumer products (e.g., bottles, caps, containers) that have been carelessly discarded. Some of this litter is in the form of resin pellets, flakes and powder that enter the waste stream and can end up in the ocean nd our natural environment. When these pellets, flakes and powder are accidentally eaten by wildlife, they may not pass through their digestive tracts, which could lead to malnutrition or even starvation. The impacts of ingested marine debris can be significant and warrant efforts to prevent plastic materials from entering the environment.
While consumers are responsible for the proper recycling and disposal of consumer products and packaging, the plastics industry must focus on proper containment of plastic pellets, flakes and powder. We must prevent the pellets, flakes and powder from getting into waterways that eventually lead to the sea."
Yet for some reason we are still stuck on the end processes such as recycling as some governments are currently considering taxation with the French government, in early August 2018, pledging to use only recycled plastic packaging by 2025, and it plans to penalize companies using packaging made of non-recycled plastic starting in 2019 [1]. Other government's ban plastics which does not encourage nor direct responsible behaviour change. These measures penalise the plastics industry, an industry that is growing and producing an ever increasing range of products that continues to integrate into our lives.
On the 15 March 2018, the Guardian published an article "WHO launches health review after microplastics found in 90% of bottled water" and should it be found that ingesting microplastics causes illness or cancer, the whole integrity of life on earth will be compromised due to the ubiquitous nature of plastics. Taxation and bans will do very little to alter this tragedy as we still will have not addressed the gaps in the whole supply chain.
The Certification Model
The main aim of certification is in preventing plastic leakages, rather than our current method of solely planning the best response to leakages once they happen. Certification is not going to be the one and only ultimate solution. It must an integral part of many measures that we must take if our relationship with plastics is to co-exist for the long-term. Furthermore we do not need to reinvent the wheel but can use or adapt existing frameworks such as the Operation Clean Sweep Program Manual that provides clear guidance on operational procedures to minimize leakages into the environment.
Like food safety systems there are a number of instruments that can be used to ensure no plastic manufacturer is disadvantaged by cost. The only variable lies with verification to prove responsible internal procedures for customers and consumers. These instruments are listed below:
1. Development of an Standard: ISO standard, individual country standards that generally follow ISO.
2. Certification: As ISO does not perform certification, a number of companies are accredited who can certify plastic manufacturers.
If a plastics manufacturer wants to use a logo to demonstrate certification, they will need to contact the certification body that issued the certificate.
3. Government regulation: As not every food company has food safety certification, each country issues a Food Safety Act / Food Safety Regulation which is, technically, enforceable through the respective Health Department. We need a similar regulatory environment for the plastics industry – a Plastics Safety Act / Plastics Safety Regulation.
We recognize enforcement is going to be a weakness in the system especially in Asia and other emerging markets. However better a system with known weaknesses than no plastics safety system at all. Known weaknesses are, sometimes, traceable as China has shown with their many food safety breaches.
Below is a diagram of the plastics manufacturing process where we clearly highlight the areas for certification.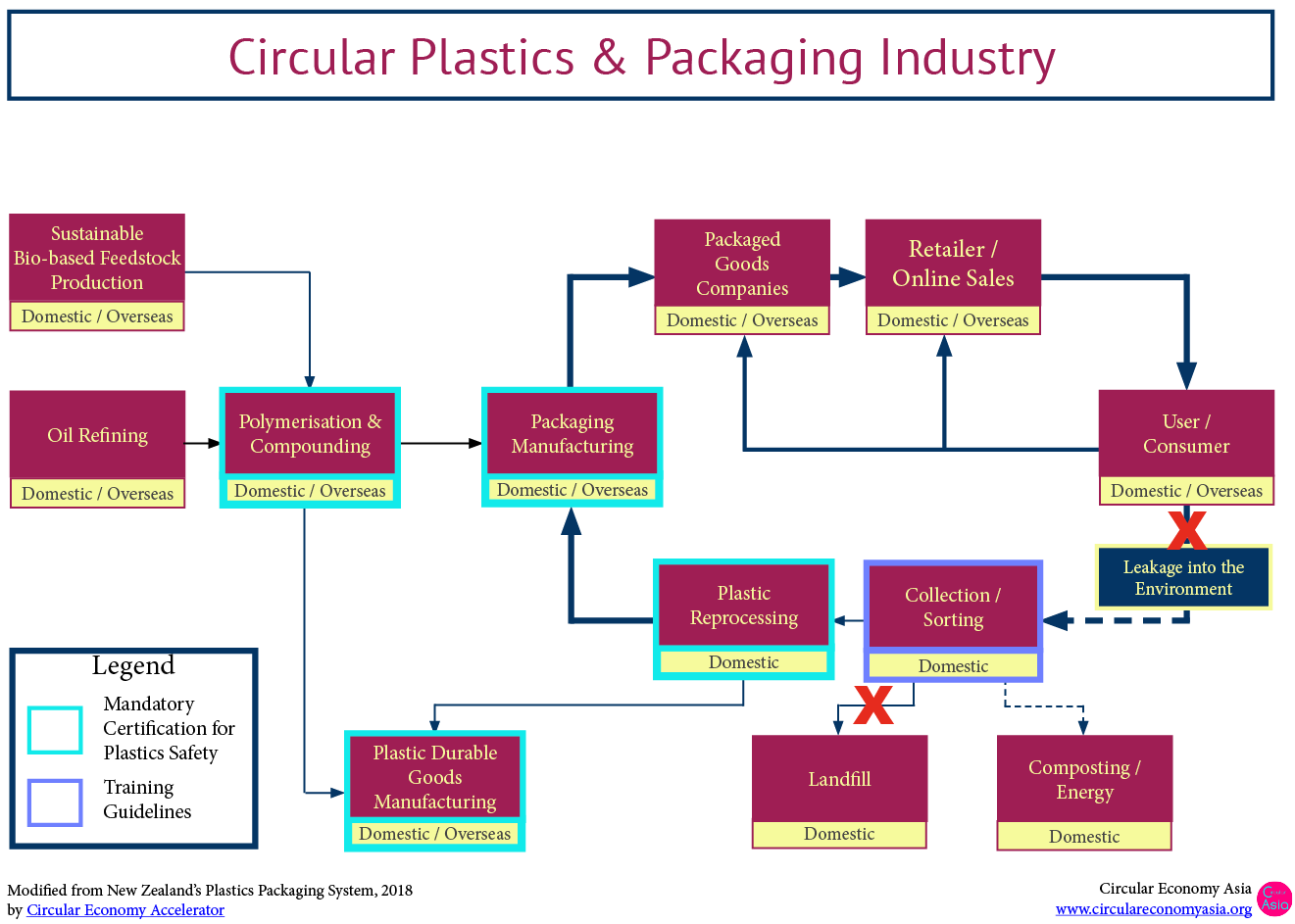 There is an additional section highlighted in purple for training. As more and more groups and people begin to tackle waste there is no reason why we cannot come together to agree on training guidelines for collection and sorting. The APPA Framework can also act as a forum for collective information and material to be available.
Conclusion
The plastics industry has acknowledged significant amounts of leakage into the environment from plastic manufacturers. For a comprehensive plan to tackle the 21st century's biggest single environmental issue, 'the plastic problem', we need to plug up these leakages and encourage all companies to purchase plastics from responsible certified sources.
Signing up companies to targets is important, however there will always be a significant number of companies who will not commit to targets but may well buy from certified plastics manufacturers. If government's can recognise the value of legislating for a Plastics Safety Act or Regulation to provide the many hundreds of SME's plastic manufacturers with clarity on their responsibilities then we have additional instruments in tackling plastic pollution. There will always be issues with enforcement but as Asia develops so will the ability to ensure these safety mechanisms begin to gain more traction.
Finally, APPA's basic premise is based around an independent agency to build, maintain and manage a sustainable and circular plastics and packaging industry in each Asian country. Some Asian countries will not have the funds to pay for an effective agency so how will they achieve this goal? As we work through all the requirements the first step is by engaging plastics manufacturers to take control of their own leakages through certifiable processes. By forging trust and confidence with the plastics industry, we can then begin to coax better solutions between all stakeholders.
**************************************************************************
Visit the Asian Plastics & Packaging Agreement page to download all the documents.
Photos: Bird eating bread: Photo by David Clode on Unsplash / Man pushing cart with containers: Photo by Sander Wehkamp on Unsplash
References: [1] https://www.plasticstoday.com/packaging/france-will-introduce-plastic-packaging-tax-2019/1049716459277